Copyright Information
All images authored either in film or digital format are of Copyright © AMA SPORTS PHOTO AGENCY.
AMA SPORTS PHOTO AGENCY adopts a strict Copyright policy
All images authored either in film or digital format are of Copyright © AMA SPORTS PHOTO AGENCY.
AMA SPORTS PHOTO AGENCY STATEMENT ON 
© COPYRIGHT
We take a rightful hard stance on individuals / companies who reproduce our works without authorisaiton.
We have published this page to make it clear and indeed hopefully help and educate those who are ignorant of the law.
When someone designs a mechanical piece of equipment the design is usually registered as a patent. This means other companies can not copy the design and profit from it unless a fee is paid.
The same goes for other creative works, however as soon as a work is created, it is protected under the COPYRIGHT ACT. This can be a piece of music, a sculpture, a painting or a photograph for example. Be it a line drawing by a small child, to a work by an art master, automatically, by law, the work is protected.
There is no need to register it, state that it is of copyright to the author, that work belongs to the creator until may years after death.
We are not a photo agency charity, we value our works and reward our talented photographers for their hard work and endeavours.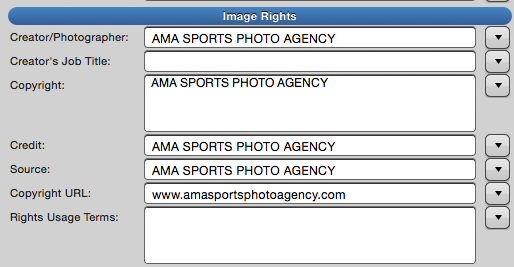 Creating works is our living.
It takes a huge amount of investment to travel around the world in order to capture what we see. The photography equipment that we use is very expensive. We have to pay to store our images, we have to pay our IT man, we have to pay our taxes and of course pay our team of talented PROFESSIONAL photographers. Oh and then there is the tax, and other business expenses too.
We all enjoy beer, but that does not mean someone can break in to someone's private home, open the fridge, crack open a beer and sit in front of the TV. Equally we all enjoy our favourite food, but laws protect supermarkets from people who think it is ok to simply enter a store and take what they want.
Images published in books, magazines etc are all are protected under Copyright laws. The same goes for images on the internet. 
WHAT IS A LICENCE?
When a client wishes to use material authored by AMA Sports Photo Agency, a licence is granted. We very rarely offer or sell exclusive copyright. If you want to live in a house, you can either buy or rent. If you buy, the house is yours. If you rent you can stay and live in the house for a contracted period, be it a week or a lifetime. The same goes for picture licences. A fee is paid on the understanding that the picture can be published in a certain way for an agreed amount of time. A certain way means that a client pays for the image rights for use in a magazine for example. Should the same client want to use the same image in another way EG a billboard poster then a seperate licence has to be drawn up.
THE BOOK OF BRILLIANTLY WRONG EXCUSES
IT IS ON THE INTERNET IT IS FREE TO USE
WRONG!
Images published in books, magazines etc are all are protected under Copyright laws. The same goes for images on the internet. 
The Intellectual Property Office (IPO) warns that images uploaded, published / posted on Twitter hold the same copyright protection as any other work and with each unauthorised use being able to be the subject of legal action.
IT HAD NO WATERMARK OR DID NOT SAY IT WAS COPYRIGHTED
A published or photographer does not have to specify that a work is copyright protected. It is automatically protected.
IT IS IN THE PUBLIC INTEREST - NEWS DOMAIN
This only applies to moving pictures and even then there is harsh criteria to meet
OTHER WEBSITES ARE USING IT, ITS ON THE INTERNET
Just like a nasty Policeman, so what. You were caught speeding, we will prosecute you!
How do you know other websites have not paid for a licence to reproduce the image?
Retweeting is not illegal. Copying and reuploading an image is.
Twitters stance "As has always been our policy, Twitter users own their photos"
And...? Google does not own pictures. It is clearly NOT a free photo agency. 
FACEBOOK IS PUBLIC DOMAIN
Sadly this is a myth. Facebook's terms of service : "You own all of the content and information you post on Facebook."
Credits do not pay for the fuel at the gas station.
How about we take some steak from the supermarket but tell all of our friends that we are eating supermarket steak?
Ignorance is not an excuse. "Sorry your honour I did not realise it was against the law to steal a car"... Say that to a judge and you are toast!
I HAVE TAKEN THE IMAGE DOWN NOW 
Congratulations. It does not matter. The deed had been done.
THE GOING RATE IS $10 .. why are you charging us this amount!?
We have the right to refuse a sale. Therfore, no one has a right to gain a licence and publish works.
One supermarket can charge $x for one drink, another $x. The choice is with the consumer.
The seller can charge what they want, it is up to the buyer to agree the requested fee or source from elsewhere.
We calculate the cost of an infringement on the basis of what judges are awarding. Under law, two parties have to agree a sale before the transaction. 
IF WE GET IN CONTACT WITH YOU - WHAT HAPPENS?
Housing a work on a server is illegal without permission.
Making the work avaialble for display is
 illegal without permission.
Cropping / altering a work is illegal without permission.
Wrongly bylining a work is illegal without permission.
Stating on a website that the company has the rights to the work is illegal without permission. By publishing All Rights Reserved / Copyright etc you are claiming the rights to OUR work, which in the eyes of a judge in the I
ntellectual Property Court is a big no no!
When infringements can not be settled, we have to take matters to a judge to decide the outcome.
Here is what we do...
Demonstrate that the image is our Copyright and not an orphan work.
and provide proof with regards to the following applicable counts  :
- the work has been stored on a server illegally
- the work has been published illegally
- the work has been wrongly credited
- the work has been cropped / altered from the origional illgeally
- the website has assered rights to the image illgeally
SOME REFERENCES FOR PHOTOGRAPHERS AND END USERS
SOME REFERENCES FOR DAMAGE CLAIMS
IF YOU HAVE ANY CONCERNS OR QUESTIONS REGARDING THE ABOVE TERMS, PLEASE CONTACT AMA